If you feel a certain way, and you'd rather feel another way, you've got to make a change. You can change your surroundings, which may help, but when it comes down to it, it's all in your head. You can't stand in the same place with the same state of mind and expect things to get better. You have to pivot (either literally or metaphorically speaking). Jerry and Esther Hicks use a process called "pivoting," which simply means turning your attention from what you're feeling now (bad thoughts) to how you'd like to feel (good thoughts). They teach us that holding a single thought for seventeen seconds will attract a similar thought of the same shape, size and vibration (it is Law). I have created this workbook to aid you in focusing your attention on how you WANT to feel, instead of dwelling on your current state of mind. It's all in your head. If you want to feel good, choose good thoughts. This booklet allow you to focus on the positive aspects and (hopefully) aid you in pivoting to a better feeling emotion. Twenty eight pages.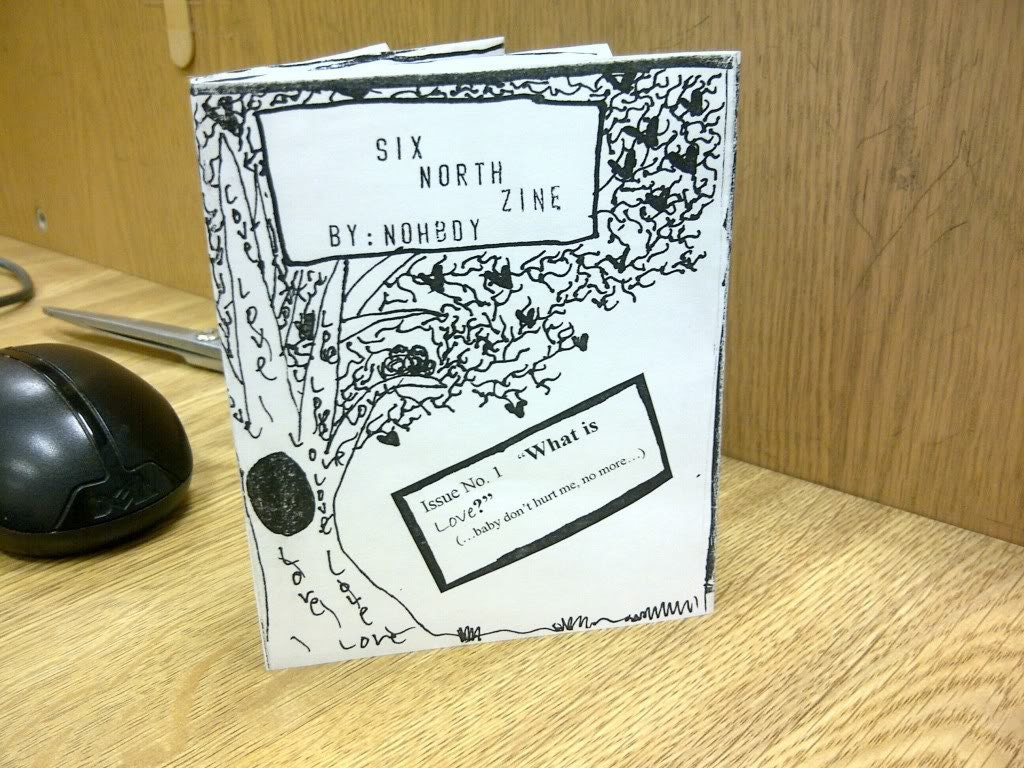 An 8 page mini zine. Contains 4 different people's definition of love and several "Dear Future Girlfriend/Boyfriend." Submissions. Includes a few polls.
Here is a memoir zine from me. Paper Crush #3 is the story of me at 15 and the first prom I went to and everything else surrounding it. You will hear about the religious school I went to until that year, my first love, Southern California shenanigans and lots of other 1980 memories. Includes a couple actual diary entries (embarrassing) and illustrations (including a few truly inspired ones that are not by me). 18 pages. Half-Size.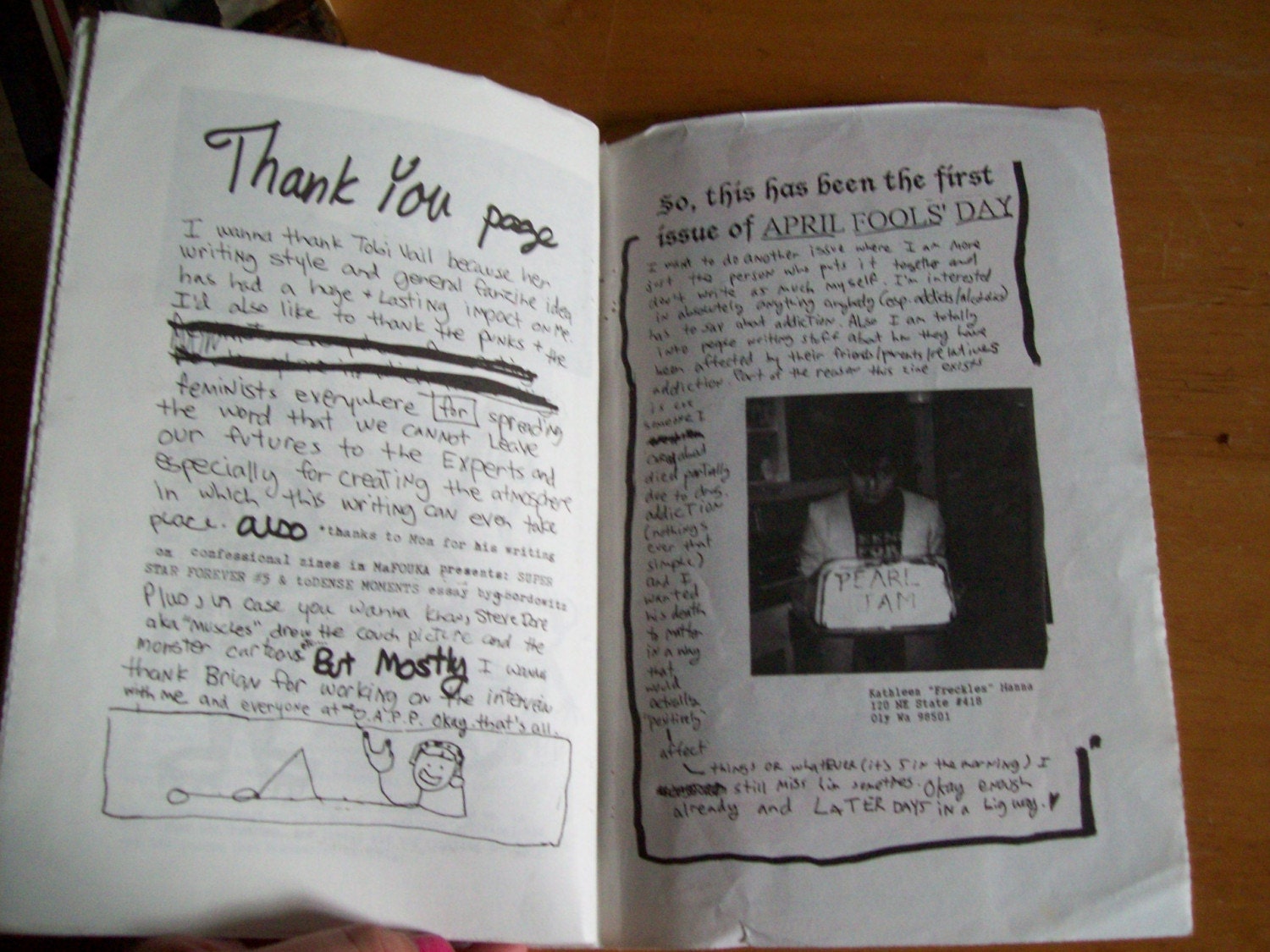 This is Kathleen Hanna's zine about alcoholism. i have a few copies left over from when i was putting together riot grrrl zine grab bags...
The first in a series of art tutorial zines, Journal POP! : Tissue Paper will teach you the wonderful things you can do with just one material, you guessed it, tissue paper. What makes this zine so special is that, not only will you have some knowledge of tissue, it's actually pasted in the zine for you to touch and see for yourself! It also has great photo examples as well. Contents: Materials, Tips and Tricks, Techniques and Glossary of Terms. Pages: 16 pages (8 pages front and back) This zine was photo-copied, printed, cut, and bound together with a string of yarn with lots of hard work and love, and I hope you'll enjoy this little book of tissue knowledge.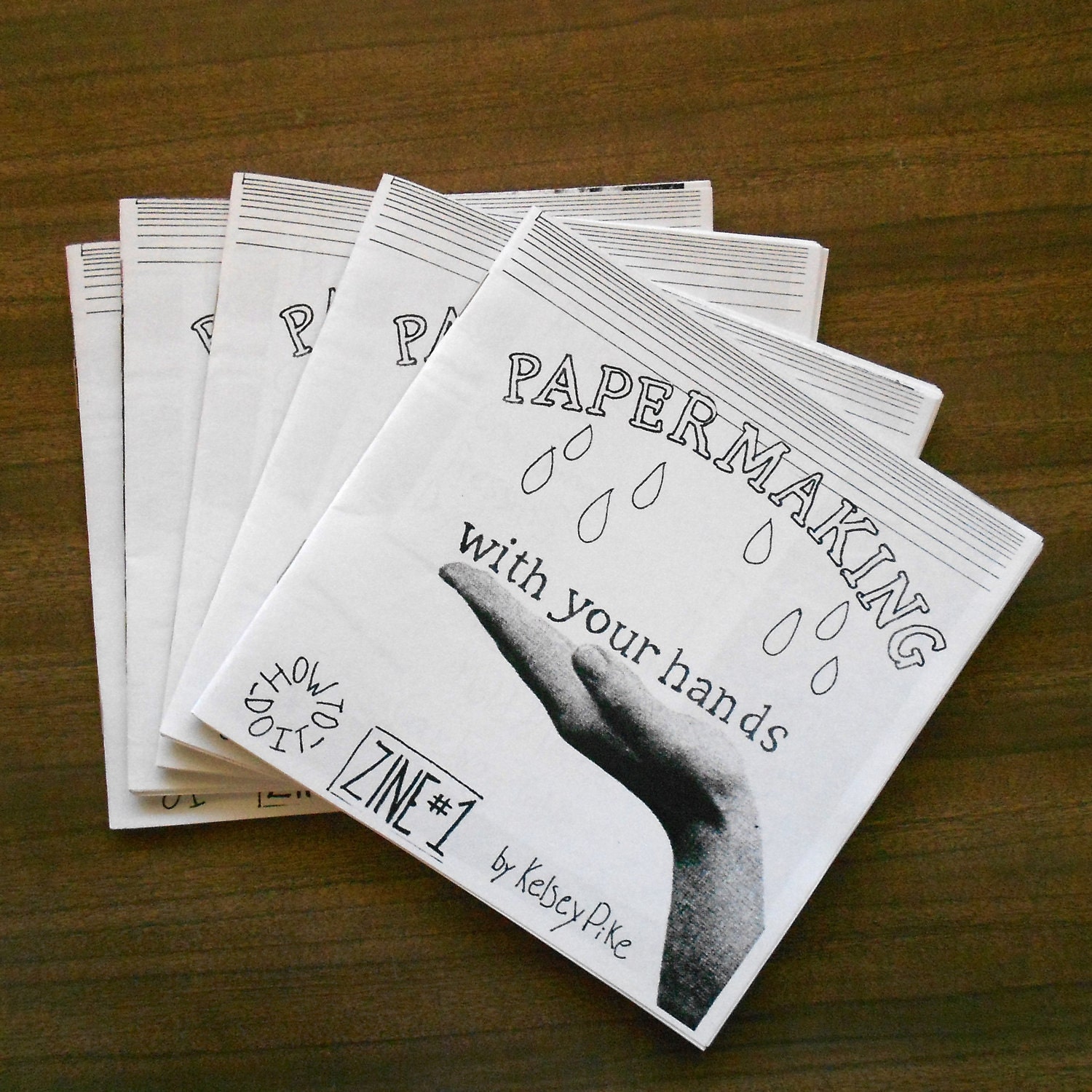 A 5.5x5.5inch book with 23 pages. Photocopied photographs and illustrations onto recycled paper. This How-to-do-it Zine covers the basics of papermaking. Explains your options for each step: pulping, pulling, couching, pressing and drying. Focus on techniques that can be accomplished at home with little expense, but also covers the professional and traditional methods. Also includes sections on how to make a mold&deckle and how to make a couching table, a very useful tool.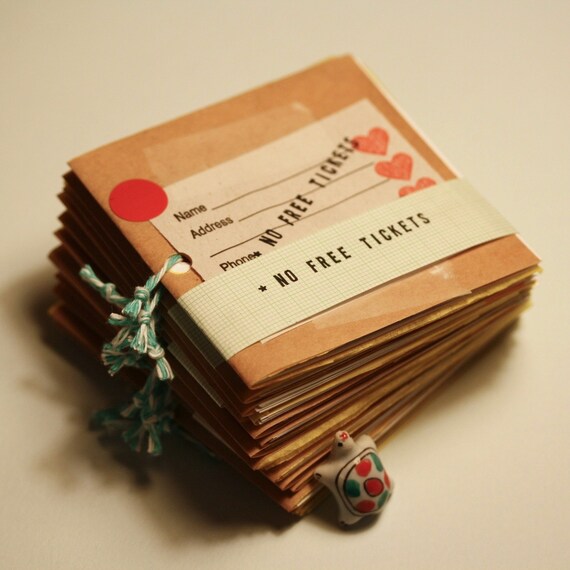 'No Free Tickets' is a small scale handmade zine featuring collages and artworks by Holly Leonardson (that's me!). The pages are made up of a variety of papers including: graph, water colour, tissue, kraft, transparent etc. It is bound with a single knotted piece of baking twine. This square-shaped zine measures 7.5cm x 7.5cm and each one is numbered.