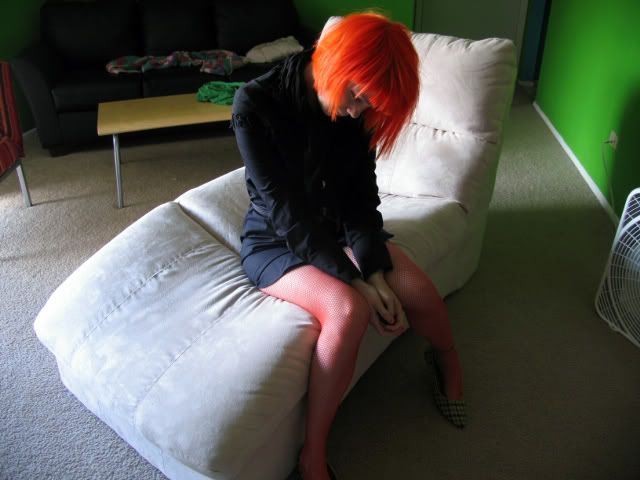 Hi-de-ho-diddly-do My lovelies!
This past week was INCREDIBLY out of control for me.
I'm not used to being around so many people and having a million things to accomplish in one week, along with working and sustaining myself as I normally do.
So today I can finally sort of relax.
It was my birthday week, so I celebrated in some way each day, on my actual birthday [april 1st] my lover and I moved into our new place which was incredibly strenous after a day @ work.
On Wednesday my grand friend [Anastasia] came up from Palm Coast and my lover and I all went to Art Walk and then some party on the top level of a parking lot and then off to Square One for 'Are Friend's Electric' which is now 18+ for all of those who would like to join but couldn't before.
Thursday i was planning on working but ended up a bit to disoriented from the night before to do so, so it was quality time with my lover and semi-organizing the house.
Friday, kicked back some beers with some friends and chatted it up and walked about town.
Saturday was my official birthday party [Art.Smart.Poptart]. And was terribly awesome. We hung cotton candy, coke bottle candy, and some sour strips tied into bows from the ceiling. I made rainbow jello shots, and my friend Anastasia made cookie art, I taped candy buttons to the wall as well as brown paper for drawing and spread out some of my own art supplies on the table set up a laptop with some tunes and let the night ensue.
The Cotton candy was the most fun, by the end of the night it had turned into some rock candy and was hanging around the place looking like dead-meat or some cave stalagmites
This was the beginning of the drawing, each person was required to make me some art, so this got added to and is pretty filled, I will be taking some pictures of it soonish.
And this is my lovely friend Anastasia giving some of the raw-meat cotton candy to some of the friendly guests of the party.
I enjoyed the party much, and can't wait to come up with some other brilliant funtime for another party.
Sunday we mostly cleaned, and an old Sega Genesis was found and played for most of the day.
Okay-okay enough of this jibba-jab I know let's get to the GOOD STUFF ! MUSIC!
What's that you ask?
Two songs in a row, two weeks in a row?
Yes that's right! That's because for my birthday I got something that I had been trying to save up for, for a bit of time.
My lover purchased me a Snowball!
A USB Mic, I didn't know something so beautiful existed yet. But I decided I would test it out on a song that I haven't posted yet. So the first song is the orignal version that I recorded from the little mic that is built in with the computer [ what I've been recording all of my music from]. The second song is today's version that I recorded with my new Snowball. I'm pleased with how it sounds, I'm going to have fun experimenting with it some and testing it out in different places, the little stand that it comes with is very nice, and it's simple and easy to use so I'm happy-happy-happy about it!
As for what's going on in the future with Jemibook.
Next week there has been talk of a Jemibook music video, which I hope will happen.
and I believe April 30th will be Jemibook's first show @ a venue, I will be playing along with some other fine musicians at Square One, they are doing an artist/art-like show. I will be performing a hand-ful of songs and will bring cd's and a little extra-something-something. I hope to see some if not all of your pretty faces there!
Well that's all for this week's edition of Make Music Monday, I will try and do some posts during the week, but we're still organizing things around here and i'm a little bit out of sorts when it comes to being at home right now.
Have a great week otherwise!
Much Love,
Jemibook